Anybody who follows the National Basketball Association (NBA) can agree with me, that this year is arguably the best individual performances season of all time. After Last year first ever unanimous MVP campaign won by Stephen Curry of the Golden State Warriors, I thought there will never be a greater season that 2016 season. A season in which so many records were broken; like the most wins by any team in NBA history in a single season (73/82 games), the records for most 3pts shots made by a player in a single season was broken by 125 more 3pts made, just to name a few. The 2017 NBA season proved to me again that in sports never said never. Kevin garnet put it best "Anything is Possible".
This year's season is even better, players like  Harden; Lebron who might the closest player to Micheal Jordan, Lennard, and my MVP Westbrook are taking individual performances to the next level. As we approaching the end of the regular season, these players above could be a winner of this year's MVP. This race for MVP is the closest I have witnessed with my own eyes since I started watching Basketball; a case  can be made for all the players above but here are my 5 reasons why Westbrook is my MVP for the 2k17 NBA regular season:
 He plays every game
Westbrook is the only superstar in NBA who plays all 82 regular season games and averages 40 minutes a game out of 42minutes, which is insane. Most superstars take games off to rest but Westbrook never does and he plays every game with passion at 100 miles per hour. He is in my opinion the most exiting player to watch, and he plays above the rim with electrifying speed
2. He Carries his team to 6th seed in the playoffs
I know many of you would question why I make a big deal of the thunder being in 6th place but stay with me here. It is a big deal for Westbrook and the Oklahoma City Thunder to be the 6th because nobody expected them to even make the playoffs. Last summer the Thunder lost Their best player, regular season MVP winner Kevin Durant to the Warriors and all-star player Serge Ibaka during free agency. Given a depleted roster, Westbrook manages to carry his team to the 6th seed in the western conference which is the best/hardest conference to win games in.
3. He is a complete Player
He stands only 6′ 1″ 190 lb which by NBA standard is considered short, but he Plays like a giant; he blocks shots, dunks on people, and He plays hard for 40 minutes on both ends of the floor and makes players better around him. He is also a fun player to watch on the court and off the court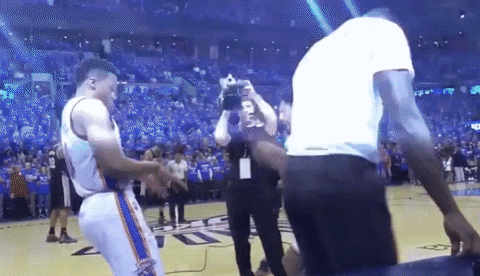 4. Mr. Triple Doubles Machine
The title for reason #4 says it all. Has of today Russell Westbrook holds the record for most triple-doubles, 42 of them and counting in a single season. He broke the record this year which belonged to Oscar Robertson since 1962. He averages a total of 31.9 points, 10.7 assists, and 10.4 rebounds; This has never been done in modern basketball history.
Who is your NBA regular season MVP and why?
For more content on ressull westbrook clink on the following links: